A summary of an interview with Dana Weinberg, founder and CEO of Women and their Bodies.
Written by Ronit Hed, CEO of Shatil.
The idea to establish Women and their Bodies was born a long time ago, when I received the American book Our Bodies Ourselves from a friend as a gift. For me it was an amazing encounter. There were a lot of things in the book that made me wonder: "How did I not know that?!". Following this, I wrote a thesis on the subject, on the experiences of Israeli women in gynecological examinations. What I heard from the women I interviewed greatly reinforced the feeling I had, that most of us walk around with a lot of cultural biases and with a great deal of alienation towards our body, health and sexuality. The women shared feelings of great frustration stemming from lack of knowledge, from a feeling of distancing from the body, and from difficulty with the medical establishment.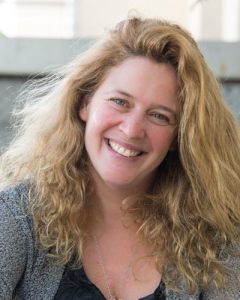 I began to gather a group of experts from a variety of fields: doctors, nurses, dieticians, sexologists, and professional colleagues who deal with gender, feminism, social action or academia. We all felt that there was a lack of knowledge, and that the existing knowledge was limited and problematic. And if we feel this way, then certainly for disadvantaged and excluded populations living in Israel, the problem is even bigger. One of my greatest prides is that a significant part of this group of founders still leads Women and their Bodies, such as Nava Braverman, chairperson of the association, and Tal Tamir, a board member.
From the outset, there were both Jewish and Arab partners in the group, because it was clear to us that everything that concerns women's health in Israel is even more prominent in Arab society. We began to dig through the data and realized that despite the existence of the National Health Law and advanced technologies, the situation in Israel is particularly troubling. We felt that the issue needed focused attention that would come from a different angle – from women to women.
Our founding meeting took place in Neve Shalom, and fourteen women from all walks of age and society arrived. There was a shared sense of excitement and need to create significant social change that would affect the health and well-being of women and girls in Israel, that would put the issue of gender-based medicine and health from a feminist perspective at the center of the discourse. We debated whether to establish a non-profit organization or to join existing associations, but we quickly realized that we were dealing with a broad and comprehensive task, and that there was a need to build a unique discourse, to create a space where women could meet, write and talk about these topics.
The first project we undertook is the writing of two books in two languages – Hebrew and Arabic – inspired by the renowned American book Our Bodies Ourselves and culturally adapted to the Israeli reality. We built a complex and interesting work model: for each of the thirty-two topics in the book, a writing group was established, and each chapter combined interviews with a variety of Israeli women, excerpts of professional writing, and a review of the political, economic and ethical aspects of the subject. The idea is that each subject contains a very broad spectrum of knowledge from a variety of sources.
Writing is a significant tool but it is not a medium that can reach everyone, so we built a set of workshops in Hebrew and Arabic, and established a website that serves as an information center for women's health on the Internet. Every project we started began with in-depth field research to see if there was a real need for it. We have continued to hold this approach throughout the years of the organization's existence. Each project begins by examining the field to see if there is a real need for it.
Even after five years of strenuous work, we are amazed that from the first moment, almost every woman to whom we offered to take part in our activity, responded with warmth and a desire to participate and help. I think that women join our work because these issues resonate with them – as professionals, as mothers of daughters and as women. Different life experiences lead women to join our work and volunteer with us.
Associations similar to Women and their Bodies have been established in about 20 countries around the world with the encouragement and inspiration of Our Bodies Ourselves. Anywhere in the world, this is always a project from women to women, social action that starts from the bottom, from the field, and goes up. Women and their Bodies does not have offices, and most of the work is done by volunteers who work at home in front of the computer or in workshops.
One of our biggest difficulties is to set boundaries and choose what topics to focus on, because women's health is a very broad issue. This is evident in light of the concept of health that we have adopted since our inception, which includes – cultural, social, physical, emotional contexts, and diverse content such as the effects of body image, eating, sexuality, different stages of our lives and more. We have the pretension to reach everyone, to give as many angles as possible on each topic. For example, we feel obligated to present experiences such as that of a deaf woman giving birth accompanied by a sign language translator, or of a disabled woman attending a gynecological examination. These are voices that we feel obligated to hear and bring to the front, voices that will not be heard anywhere else. On the other hand it is important that the dimensions of the book are not enormous and threatening in scope.
One of our biggest challenges is to encourage questioning things that were previously taken for granted. Reading our materials often raises question marks rather than exclamation marks. It is important to us that women use the information we write when they are confused, in preparation for a medical meeting, at the crossroads of decision-making regarding their health, sexuality and also just to get to know themselves better. That's why we also make sure to write in an accessible and clear way, combining up-to-date data and addresses for help and further reading.
Today I talk to my daughter about her health, her period and sexuality in a completely different way. I expect that she will talk differently to her friends and the circles of influence and awareness are expanding.
My hope is that our books and products of knowledge, the website and the workshops will reach a large portion of Israeli women, influence them and touch their lives as they have touched our lives.
We feel that social change is already happening!