Donations to "Women and their Bodies" are tax-deductible in Israel, the United States, Canada, and the United Kingdom.

Thank you for supporting our vital work promoting the health and well-being of women and girls in Israel, as well as their rights in health care, while amplifying women's voices and bringing often neglected issues to the forefront in an effort to create systemic change.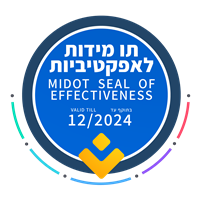 Women and their Bodies holds the 'Midot Seal of Effectiveness' which is granted to NGOs that prove effectiveness and efficacy in their work as well as measurable social impact and added value.